What's new at FREE? (Federal Resources for Educational Excellence)
New Resources at the FREE Website (Federal Resources for Educational Excellence)

January 9 – March 2001
Arts
"2001: A Cyberspace Odyssey" invites teams of teachers to apply to
develop website models that include the visual arts, learning
theories, curriculum content, & resources of the National Gallery
of Art. Three-member teams will participate in a summer seminar, &
a selection of their work will be made available through the
Gallery's website. Applications are due March 31. (NGA)

http://www.nga.gov/education/cyberworkshop.htm
"Modern Art & America: Alfred Stieglitz & His New York Galleries"
brings together for the first time in more than 50 years a
representative collection of paintings, sculptures, & photographs
exhibited in the galleries of one of the most influential figures
in early 20th century art. An aim of this website is to "reveal
more clearly the nature of his [Stieglitz's] contribution to
American art." (NGA)

http://www.nga.gov/exhibitions/modartinfo.htm
"Prints Abound: Paris in the 1890s" features images that appeared
as posters, albums, books, periodicals, music primers, song sheets,
& folding screens. The prints & color lithography offered painters
such as Pierre Bonnard, Edouard Vuillard, & Henri de Toulouse-Lautrec
a wider audience for their artwork, which was often misunderstood
by the Salon, the organizer of state-sponsored exhibitions. (NGA)

http://www.nga.gov/exhibitions/printsinfo.htm
Foreign Languages
"The Internet Living Swahili Dictionary" is an effort to establish
new dictionaries of Swahili, the most widely spoken language in
Africa. The Kamusi Project features online dictionaries, Swahili
learning resources, a discussion forum, links to Africa related
sites, & images from East Africa. (ED)

"SEAsite" offers language instruction materials as well as
cultural, political, & social information about countries in
Southeast Asia including Thailand, Indonesia, Burma, Vietnam, & the
Philippines. (ED)

Health & Safety
"The National Youth Violence Prevention Resource Center (NYVPRC)"
is a central source of information on prevention & intervention
programs, publications, research, & statistics on violence
committed by & against children & teens. (Multiple agencies)

"Promoting Better Health for Young People Through Physical Activity
& Sports" offers 10 strategies for promoting lifelong participation
in physical activity & sports. It also suggests ways that
communities, families, schools, media, afterschool programs, youth
sports programs, & recreation programs can help implement these
strategies. (ED & HHS)

http://www.cdc.gov/nccdphp/dash/presphysactrpt/
Language Arts
"The Hannah Arendt Papers" presents selections from the work of a
political philosopher and educator whose writings constitute a
principal source for the study of modern intellectual life.
Selections include an essay on Arendt's intellectual history, a
chronology of her life, & an index of all folders in the Arendt
Papers. (LOC)

http://memory.loc.gov/ammem/arendthtml/arendthome.html
Science
"Science@NASA" features space science stories & activities in
English & Spanish. Readings are organized around space science,
astronomy, living in space, earth science, biological & physical
sciences, & basic rocketry. (NASA)

Social Studies
"Allegheny Portage Railroad: Developing Transportation Technology"
shows the innovative transportation system used in the 1830s-1850s
to tow railroad cars up & down the steep slopes of the Allegheny
Mountains. (NPS,TwHP)

http://www.cr.nps.gov/nr/twhp/wwwlps/lessons/23allegheny/23allegheny.htm
"The Amazing Picture Machine" is a database of photos & graphical
representations on the web. In includes pictures of animals,
architecture, maps, military equipment, paintings, patterns &
shapes, plants & trees, rock stars & world leaders, national parks
& monuments, weather & meteorological phenomena, World War II, &
more. A dozen lesson ideas demonstrate ways pictures can be used
to help students learn. (ED)

http://www.ncrtec.org/picture.htm
"Bethlehem, Pennsylvania: A Moravian Settlement in Colonial
America" looks at this area (along the Lehigh River) that became
the center of industry & community for Moravians, a Protestant
group that migrated to colonial America seeking opportunity & the
chance to spread their religious beliefs. (NPS,TwHP)

http://www.cr.nps.gov/nr/twhp/wwwlps/lessons/59bethlehem/59bethlehem.htm
"Californio to American: A Study in Cultural Change" looks at an
area that was once part of an Indian village, then an outpost
shelter for "vaqueros" (cowhands), & then the site where
"Californios" (Spanish settlers in what is now the state of
California) built small adobe dwellings in the midst of their
cattle ranges. Successive owners altered one dwelling into the
elegant 18-room ranch house there today — Rancho Los Alamitos.
(NPS,TwHP)

http://www.cr.nps.gov/nr/twhp/wwwlps/lessons/8californio/8californio.htm
"Castolon: A Meeting Place of Two Cultures" depicts a small trading
& farming community in southwest Texas, near the border with Mexico
(in today's Big Bend National Park). Castolon was a farming,
ranching, & storekeeping partnership at Camp Santa Helena,
established after the Mexican Revolution (1920). (NPS,TwHP)

http://www.cr.nps.gov/nr/twhp/wwwlps/lessons/17castolon/17castolon.htm
"Chattanooga, Tennessee: Train Town" helps students see how
geography & promotion combined to encourage the growth of
Chattanooga, Tennessee, & how railroads shaped the organization &
architecture of this city & others from the mid-1800s to mid-1990s.
(NPS,TwHP)

http://www.cr.nps.gov/nr/twhp/wwwlps/lessons/52chattanooga/52chattanooga.htm
"Fort Morgan & the Battle of Mobile Bay" presents firsthand
accounts, maps, & more pertaining to this Civil War conflict
(August 5, 1864) in which Union Admiral David Farragut led about 20
ships & vessels into the torpedo-filled Mobile Bay. (NPS,TwHP)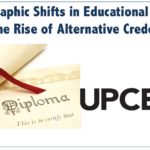 Download Report: Demographic Shifts in Educational Demand and the Rise of Alternative Credentials