University of Maryland Libraries to Use Concurrent Video-On-Demand Solution for Multimedia Education
ATLANTA, Mar 26, 2001 — Concurrent Computer Corporation (Nasdaq:CCUR), the leading provider of digital video solutions on demand, announced today that its MediaHawk Video Server has been selected by the University of Maryland Libraries, Nonprint Media Services, to support video-on-demand (VOD) over Internet protocol (IP) and baseband networks for education applications. The video server was purchased through AVWashington, a Concurrent Value Added Reseller (VAR).
The University of Maryland, located in College Park, Maryland, is a public research University with a total enrollment of over 33,000 graduate and undergraduate students. The University has gained national recognition as one of the fastest rising comprehensive research institutions in the country. The implementation of this "distance learning application" utilizing VOD technology is one of the many new innovations being implemented by the University. With the support of Concurrent's VOD technology, students, professors, and other academics will have a multitude of lectures, language, and other educational content at their fingertips. This video-on-demand solution will augment, if not replace, VCR-based video at the university's library carrels.
Concurrent's MediaHawk Video Server delivers true interactive VOD over a broad spectrum of networks for education, training, and presentation applications. A high-performance, scalable, digital video server, the MediaHawk supports from tens to thousands of MPEG1 or MPEG2 digital video streams. Users are able to select, play, stop, and pause each digital video stream independently with prompt and predictable response times. The MediaHawk offers industry-leading performance at the lowest cost per stream and provides the most reliable response time achievable in the marketplace today.
"With its reliability and high video quality, the MediaHawk Video Server represents a flexible and cost-effective solution for our VOD requirements," said Allan C. Rough, manager of Nonprint Media Services. "Concurrent's VOD solution will enable us to provide the best audio-visual technology to our academic body. Equally important is the fact that the MediaHawk Video Server is an open, standards-based technology that will allow us to build interoperability with other Information Technology systems in use by the Libraries and the campus."
"Concurrent is extremely pleased to be working with the University of Maryland by providing VOD `distance learning' solutions that meet such high academic standards," said Jack Bryant, president and CEO of Concurrent. "This video-on-demand application further illustrates the diversity of digital video and achieves what we see as a benchmark standard in the educational VOD arena."
About the University of Maryland

The University of Maryland (http://www.umd.edu) College Park is a public research university, the flagship campus of the University System of Maryland, and the original 1862 land grant institution in Maryland. In keeping with the legislative mandates of 1988 and 1999, the University of Maryland is committed to achieving excellence as the state's primary center for research and graduate education and as the institution of choice for undergraduate students of exceptional ability. It intends to become one of the most distinguished public universities in the United States. To realize its aspirations and fulfill its mandates, the University advances knowledge and provides superior and innovative instruction in a broad range of academic disciplines and interdisciplinary fields. It also employs knowledge for the benefit of the economy and culture of the state, the region, the nation, and beyond, and it does so in ways that realize one of its most cherished values, human diversity. Finally, the University of Maryland, College Park, provides leadership for the USM and its constituent institutions on a number of important administrative and educational matters.
About AVWashington

For more than two decades AVWashington's ( http://www.avwashington.com) masterful solutions for the audio-visual environment have benefited a broad range of clients: corporations, government agencies, educational institutions, architects, developers, engineers, and interior designers. AVWashington has earned a reputation for imagination, technical expertise, integrity, collaborative approach, and craftsmanship. AVWashington specializes in designing, sourcing, building, and supporting audio-visual systems, computer and video projection, audio and video teleconferencing, multimedia for accessing and distributing information. The company employs state-of-the-art technology to create powerful, versatile, reliable, cost-effective, easy-to-use, and future-proof systems that are a proven return on investment.
About Concurrent
Concurrent Computer Corporation (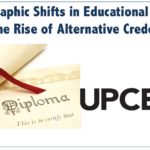 Download Report: Demographic Shifts in Educational Demand and the Rise of Alternative Credentials