The Use of Social Media in E-Learning: A Metasynthesis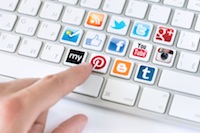 The adoption of social media in e-learning signals the end of distance education as we know it in higher education. However, it appears to have very little impact on the way in which open and distance learning (ODL) institutions are functioning. Earlier research suggests that a significant part of the explanation for the slow uptake of social media in e-learning lies outside of conventional factors attributed to distance learning reforms.
This research used the conceptual framework for online collaborative learning (OCL) in higher education. Social media such as blogs, wikis, Skype or Google Hangout, Facebook; and even mobile apps, such as WhatsApp; could facilitate deep learning and the creation of knowledge in e-learning at higher educational institutions.
This metasynthesis is an interpretative integration of peer-reviewed qualitative research findings on social media in e-learning. It includes a synthesis of data, research methods, and theories used to investigate social media in e-learning. Seven themes emerged from the data which have been recrafted into a framework for social media in e-learning as the final product. The proposed framework could be useful to instructional designers and academics who are interested in using modern learning theories and want to adopt social media in e-learning in higher education as a deep learning strategy.
International Review of Research in Open and Distributed Learning