Technogenesis® TV show explores global warming
Global warming is largely accepted among the scientific community, but what does it mean for our climate? Could climate change result in bizarre weather, severe droughts or frequent floods? Could sea level rise contribute to the contamination of our drinking water and inundate our coastal cities? Experts discuss these issues and more this Sunday on Technogenesis®, a new TV program produced by Stevens Institute of Technology, in cooperation with cn8, the Comcast Network.
Featured guests include Andrew Aulisi, business liaison in the Global & Regional Air Program at Environmental Defense, and Dr. Drew Shindell, atmospheric physicist for NASA Goddard Institute for Space Studies.
The Technogenesis program, "Global Warming: The Impact of Climate Change," airs at 7:30 p.m. on cn8, the Comcast Network, each of the following Sundays: April 1, April 15, April 29, and May 13. Check local cable listings for cn8 in your area.
Aulisi is business liaison in the Global & Regional Air Program at Environmental Defense. He focuses on the application of market mechanisms to address air pollution issues, particularly climate change, and works directly with companies in a variety of industrial sectors in developing innovative air pollution reduction programs.
Dr. Shindell is an atmospheric physicist at NASAs Goddard Institute for Space Studies in New York City. He studies global climate change, primarily using computer simulations with the institutes climate model. Dr. Shindell has worked closely on the most recent international assessments of the science of global change, particularly as an expert reviewer for the Intergovernmental Panel on Climate Change 2001 report.
Co-produced by Stevens and Comcast, the half-hour Technogenesis programs feature government, research and industry leaders discussing some of the most challenging real-world issues facing science and technology today.
Hosted by Stevens President Harold J. Raveché and veteran TV journalist Steve Taylor, each program includes two or more special guests from the areas of science, technology, government, education, business or industry.
The Comcast Network is one of the nations largest regional cable networks reaching close to 4 million households in New Jersey, Pennsylvania, Delaware and Maryland.
Stevens Institute of Technology is a 130-year-old private university in Hoboken, N.J., that specializes in Technogenesis, a term it has trademarked. Technogenesis is defined as "the educational frontier where students, faculty and industry jointly nurture new technologies from concept to realization." For more information about Stevens Institute of Technology visit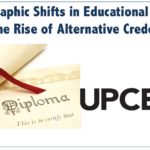 Download Report: Demographic Shifts in Educational Demand and the Rise of Alternative Credentials