Student satisfaction with a web-based dissertation course: Findings from an international distance learning master's programme in public health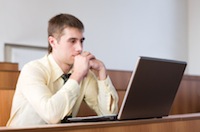 Online distance learning (e-learning) is now an established method for providing higher education, in the UK and across the world. The focus has largely been on developing the technology, and less attention has been given to developing evidence-informed course provision. Thus the effectiveness of this teaching approach, and its acceptability to students, is, at times, uncertain. Many higher education courses require students to submit a dissertation. Traditional face-to-face courses will include meetings between the student and an allocated supervisor, to support the dissertation component of the course. Research into the supervisory relationship and student satisfaction has focused on doctoral students. Little is known about the experiences of students studying for a master's degree.
The aim of the current study was to measure student satisfaction with the dissertation course as part of a fully online distance learning master's programme in public health.
International Review of Research in Open and Distance Learning