SRI International Wins Contract to Integrate Live and Computer-Based Training for the California National Guard
SRI International, an institute based in Silicon Valley, has been awarded a $3M contract to develop a statewide combat readiness training system for the California Army National Guard that integrates live battle exercises with computer-based simulators.
This will greatly increase training effectiveness by linking live outdoor training exercises with simulators to create a realistic battlefield environment where command, infantry, armored, and eventually, air elements of California's Army National Guard can interact during a combat training event without leaving their home stations.
For example, through computer networking, a command post in Los Alamitos, California could send orders to a tank unit training at Camp Roberts near Paso Robles, while another Guard Unit in San Luis Obispo dispatches simulated soldiers to the virtual, interactive battlefield which is shared by all participants. Previously, such large-scale combined arms training exercises were infrequent because of the costs required to move widely distributed Guard units and their equipment to a single exercise location.
The Congressionally supported initiative, dubbed the "Joint Training Experimentation Program" (JTEP), has three goals during its first year of development. As system integrator, SRI will: (1) complete system definition and design; (2) develop an initial training integration capability; and (3) conduct a "proof-of-concept" demonstration. Subsequent phases are planned that will increase JTEP capabilities by expanding participation to other branches of the military, and linking other states with California for larger exercises that emulate full-scale military deployments.
"The initial phase of JTEP promises to significantly improve readiness by distributing its capabilities to soldiers and saving hundreds of hours of travel time that can instead be used in training," said Lieutenant Colonel Timothy Swann, Commander, 2-185th Armor Battalion. "Furthermore, by linking constructive, virtual, and live systems, it will enable true, multi-echelon training between the crew, company, and battalion levels."
JTEP To Integrate Live, Virtual, and Constructive Simulation
SRI will take on the role of a systems integrator as it develops the JTEP system to synchronize live warfare exercises with two different — yet equally important — forms of computer-based simulation: "virtual" and "constructive."
A virtual training exercise will place soldiers in a simulator that mimics the environment and control mechanisms of an actual combat platform such as a tank. Combat is simulated through various technological means, such as displays, audio, and force feedback. In this type of exercise, real soldiers are commanding simulated battlefield systems during training.
In a constructive training exercise, participants alter the characteristics of the battlefield environment by creating simulated soldiers that operate simulated battlefield systems. This method is primarily used in training commanders and their staff at the strategic level. Like so-called "real-time strategy" or "RTS" games for the home PC, the operators of the constructive simulation have input into the behavior of the simulated units, but they do not have direct control over the outcome of their engagements.
By integrating these two different computer-based simulation approaches with live combat training exercises, SRI plans to enable large-scale battlefield training to take place at the battalion level through JTEP. This has the net result of reducing the cost, logistics, and travel involved with moving military units long distances in order to participate in training exercises.
SRI Brings Technology and Talent to Distributed Battlefield Simulation
SRI has already demonstrated its expertise in improving the realism and efficiency of live warfare exercises by developing and fielding the DFIRST™ system for training Army National Guard armored units. SRI is currently working with National Guard units in several states including California, Idaho, Kentucky, Mississippi, Texas, Virginia, and Washington to implement DFIRST (http://www.dfirst.com/).
In addition to its rich experience in live warfare simulation, SRI also performs research in enabling technologies such as GPS (positioning, velocity, and attitude), wireless communications, and distributed learning. SRI has been supporting the defense test and training community for more than 30 years, counting the acquisition organizations of all major branches of the U.S. military as clients.
About SRI International
Silicon Valley-based SRI International (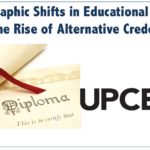 Download Report: Demographic Shifts in Educational Demand and the Rise of Alternative Credentials