Review of Handbook of Distance Education: Third Edition By Dr. Gary Miller, Executive Director Emeritus of the Penn State World Campus
Handbook of Distance Education: Third Edition Reviewed  by Dr. Gary E. Miller
The development of online learning for distance education was a disruptive innovation in many ways. One of the most visible was that it brought into the distance education arena institutions, practitioners, and academics who, before the invention of the web browser, had no experience of distance education and no understanding of its long history in North America and, indeed, worldwide. A new professional community took form that often was scantly informed by a hundred years or more of distance education experience through other media, dating back to correspondence study, which traced its U.S. roots back to 1892. The result, of course, is that a great deal of research, experience-based knowledge, and theory that had guided the development of distance education was lost to this new generation of distance educators.
Dr. Michael Grahame Moore and his collaborators—many of whom will be well-known to the distance education community—have done a great service to re-unite research in the field through The Handbook of Distance Education. Now in its third edition, the Handbook is designed, "to provide a comprehensive compendium of research in all aspects of distance education, arguably the most significant development in education over the past three decades." Moore notes that the creative rush to online distance education over the past two decades—a drive that has gathered momentum in recent years as new institutions join the community—has ben marked by an "impatience for moving to action without adequate comprehension of previous experience" (p. xvi), creating a need for a more comprehensive understanding of research and theory to guide innovation. The Handbook is intended for two primary audiences in this rapidly evolving environment. First, it is a resource for researchers and students of distance education to help them find a starting point for future study. Secondly, it is meant to help practitioners and policy makers base their innovations on tested theory and empirical research.
The Handbook is divided into five sections, each of which examines research in a particular aspect of distance education. I will take a brief look at each section.
Now in its third edition, the Handbook is designed, "to provide a comprehensive compendium of research in all aspects of distance education, arguably the most significant development in education over the past three decades."
Historical and Conceptual Foundations It is worth noting at the outset that this section—indeed, the book as a whole—is not meant to be a narrative history or overview of distance education, but to summarize the empirical research and theory in different aspects of the field. This is evident in the first section, which looks at the historical and theoretical foundations of distance education research. The five chapters in this section begin with Linda Black's overview of some of the sources of early distance education scholarship: pioneer researchers dating back to the 1920s and the emergence of distance education research centers internationally in the late 20th century. She also looks at some late 20th century research trends and the evolution of professional development for distance education practitioners and faculty members. The chapter includes a discussion of the contributions to research made by some of the professional associations in the field.
In a chapter on "University Correspondence Study," Von Pittman—one of the leaders of correspondence study in the years before online learning changed the field—updates his history of correspondence study and offers ideas for future research. Like Linda Black, he includes some thoughts on the under-researched role of professional associations.
William Diehl concludes the historical discussion with a tribute to Charles A. Wedemeyer, whom Diehl describes as an "innovative change agent" whose work advanced distance education not only in the United States but in Europe and beyond, through his work with the Open University of the United Kingdom and his influence on European researchers and theorists.
The remaining chapters in this section focus on theoretical research. Farhad Saba sets the stage with a compelling "theoretical perspective" distance education at a time when rapid technological proliferation and the equally rapid adoption of distance education by institutions has created a lack of historical perspective. He advocates the use of systems thinking to provide a more stable context for theoretical research, especially Moore's foundational theory of transactional distance. Moore follows this with his own chapter on transactional distance, which has influenced the development of the open university movement and media-based distance education since the 1970s.
I was pleased to see that this section also includes two other theoretical models for the teaching/learning process in distance education. William Anderson's chapter on "Independent Learning" builds on Moore's transactional distance theory and looks at research into learner autonomy and self-directed learning. Randy Garrison and Zehra Akyol then delve into a more recent theoretical construct that has evolved out of the need to reconsider learning design in the era of online learning—the "Community of Inquiry."
Learning, Learners, and Learner Support The second section of the Handbook explores the many dimensions of the student's involvement in distance education. This is a dimension of distance education that has become especially important in the online era, as institutions have increasingly used online technology to put forward not just courses but complete undergraduate degrees that engage students entirely at a distance. Student satisfaction and persistence have been an ongoing concern as the online learning movement developed—a concern that has arisen anew with the emergence of MOOCs. This section begins with a survey of research into the cognitive processes involved in online learning—critical to understanding the student's relationship to the learning process—but then moves on to a chapter by Mike Allen and colleagues that surveys research data on student satisfaction with distance education and with changing communications technologies in general. Then, Tinea M. Stavedes and Tiffany M. Herder explore research into student persistence and instructional strategies, including elements of the community of inquiry theory, to address the need to develop social, cognitive, and teaching presence in courses.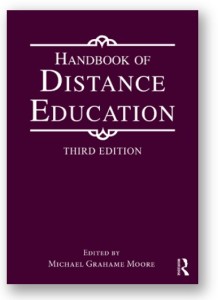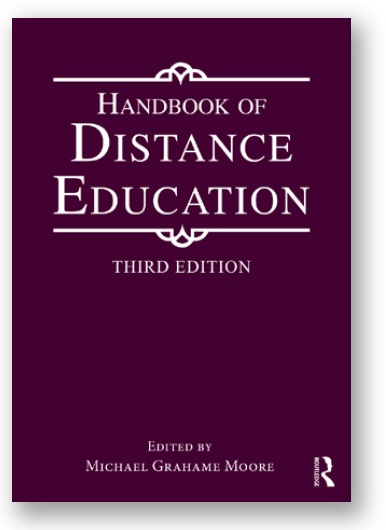 Charlotte Gunawardena surveys research on an issue that is of growing importance as the learner population in online courses becomes increasingly international: culture. She notes the complexity of understanding and responding to the diverse array of cultural differences that may be found in today's online classes—culture based on national differences, age and gender differences, communication styles, and a variety of socially defined differences—and describes what research suggests for online course design.
This section also includes chapters that examine research into other aspects of learner support, including advising, accessibility for disabled students, and library resources. A chapter on "Student Achievement in Elementary and High School" reflects the growing use of online learning at the K-12 level.
Design and Teaching The largest section in the Handbook is, appropriately enough, at the center of the book. It focuses on research into the core activity of designing and teaching online. Rick Shearer begins with an overview of the theoretical framework for instructional design, incorporating Moore's theory of transactional distance and Garrison's community of inquiry framework as the basis for examining research into several design factors, from learner autonomy to interaction and, ultimately, cost. Som Naidu follows with a survey of several instructional design models, while Vanessa Dennen explores different ways to incorporate activity and interaction into design and Minchi Kim and colleagues explore research into the factors that influence technology integration.
This section also includes two chapters on recent innovations in online learning. First, Susan Moisey and Mohamed Ally look at learning objects which, though first conceptualized two decades ago, have grown exponentially as a result of the open educational resources movement. Then, Charles Graham describes "emerging practice and research" in the relatively new concept of blended learning, which combines online and in-class activity. Other chapters focus on aspects of the learner-instructor relationship, concluding with a look at research on the ethics of student and instructor behavior in the online environment.
Policies, Administration, and Management The role of the distance education leader has evolved as a critically important factor in the success of online distance education. Historically, distance education in traditional colleges and universities operated on the fringe of the institution. Today, online distance education requires close interaction with academic and administrative units on development, delivery, and administration of undergraduate and graduate degree programs, putting the administrator in a more central role with regard to process, policy, and quality control. Moreover, the distance education leader must be aware of state and national policy developments.
The nine chapters in this section of the Handbook address research in a wide range of management issues, including strategic planning and needs assessment, policy development, accreditation, cost, the challenges of internationalization, and copyright.
It is rare to see a publication that provides an overview of research in so many areas of our rapidly evolving field.
Audiences and Providers The final section focuses on who is being served by today's online distance education programs and the institutional models that have evolved to meet their needs. Two chapters focus on the incredible growth of online distance education in the K-12 arena. Other chapters look at how distance education has taken shape in specific organizations, including community colleges, the corporate sector, and the armed forces, and the broad area of continuing professional education.
Donald Hanna reviews emerging organizational models within higher education and the increasingly competitive environment in which online distance education functions. Terry Evans and Rosemary Green survey another sign of the new mainstream role of distance education: the emergence of doctoral programs delivered at a distance, while Dietmar Kennepohl surveys how distance education is helping address the need to improve the level of science and math education around the world. Finally, Jan Visser explores some of the key dimensions of global societal change that will continue to spur innovation in coming years.
Conclusion
It is rare to see a publication that provides an overview of research in so many areas of our rapidly evolving field. While the Handbook is not recommended for the casual reader, it is a valuable resource for several distinct audiences. First, as Moore mentions in his preface, it will prove to be very useful to young scholars who are seeking areas to research. Similarly, it is a great resource for faculty members in graduate programs of higher education, adult education, instructional systems, and related fields. I would also recommend it for administrators who are exploring the potential impact of distance education on their institutions and to policy makers both at the institutional level and at state, regional, and national levels and in professional associations.
Distance education is one of the most rapidly evolving dimensions of today's higher education arena. The Handbook of Distance Education provides a valuable service by linking today's innovations with the long history of research in the field.
---
Dr. Gary E. Miller is Executive Director Emeritus of the Penn State World Campus. Until his retirement in June 2007, he served as Associate Vice President for Outreach and  Executive Director of Continuing and Distance Education at The Pennsylvania State University.  He was the founding Executive Director of Penn State World Campus, the University's online distance education program.  He earlier served as Executive Director of the International University Consortium and Associate Vice President at the University of Maryland University College.  He is the author of The Meaning of General Education: The Emergence of a Curricular Paradigm and numerous journal articles and book chapters on distance education and the undergraduate curriculum.  He received the 2004 Wedemeyer Award from the University of Wisconsin and The American Journal of Distance Education for his contributions to distance education.  In March 2004, he was inducted into the International Adult and Continuing Education Hall of Fame.  He received the 2007 Irving Award from the American Distance Education Consortium, the 2008 Distinguished Service Award from the National University Telecommunications Network, and the 2009 Prize of Excellence from the International Council for Open and Distance Education for his contributions to the field.  In 2010, he was named a Fellow of the Sloan Consortium.