Research Report: Distance Education as a Means for Graduate Education – a Study of Two Student Groups
Effectiveness
of Distance Education as a Means for Graduate Education – a Study of Two Student
Groups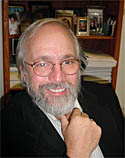 Fred R. McFarlane,
Ph.D.
Phone: (619) 594-4228
Fax: (619) 594-4208
Dr.
McFarlane is Professor and Co-Director of the Interwork Institute at San
Diego State University. His vision and leadership skills, along with those
of Dr. Ian Pumpian, led in 1990 to the creation of the Interwork Institute—an
umbrella organization that houses many diverse rehabilitation and education
efforts, including a Masters Program in Rehabilitation Counseling that
has been ranked 8th in the nation by US News & World Report.
Dr.
McFarlane specializes in the following continuing education content areas:
leadership, organizational development, program development, communication
skills, ethics, and public policy. He has published over 50 publications
in referred journals, monographs, and book chapters, with a current focus
on public policy, personnel development, and distance education. He is
much sought-after as a rehabilitation professional, academic advisor,
vocational expert and personal and professional mentor.
Since
1996, Dr. McFarlane has served as Chair of the Commission on Work and
Employment for Rehabilitation International. He is an internationally
respected consultant who has presented over 130 lectures and speeches
at local, state, regional, national and international conferences and
seminars on topics ranging from post-employment training to performance
management, and from ADA issues to disability management. He has presented
throughout Europe, in Brazil, Israel, Japan, Korea, Mexico, Thailand,
New Zealand, and the Pacific Basin.
Dr.
McFarlane graduated with his Ph.D. in 1972 from the University of Georgia.
After graduation he accepted the position of professor and administrator
of the Rehabilitation Education Program at SDSU, and was elected as Chair
in 1985. He is currently being honored with the "Alumni Association
Award for Outstanding Faculty Contributions to the University" (2001-02
academic year), and he has been listed in the "International Dictionary
of Who's Who," "Who's Who in American Education," and "Who's
Who of Emerging Leaders in America." He has been a member of the
National Council of Rehabilitation Education since 1973, and in July of
2001 served as Co-Chair at the International Employment Policy Think Tank
Conference, Rehabilitation International, held in Houston, Texas.
Dr.
McFarlane is currently focusing efforts on advancing the concepts and
principles of "universal design"—a mainstream approach
to the process of designing and creating environments, products and services
that are usable, to the greatest extent possible by most people throughout
their lifetime, regardless of their age or ability. His vision and imminent
goal is to establish community and university partnerships to fund, design
and construct a new building on the SDSU campus that incorporates the
principles of universal design. The proposed facility would house Interwork
Institute programs, projects and staff, as well as selected community,
state, and university programs.
The
building will serve as a model for architects, builders and product manufacturers
to learn and experiment with universal design, and will assist manufacturers
to design and test new products to insure accessibility. The building
will have demonstration areas for persons with disabilities to experiment
with accessible products and services, and will house design, research,
education and training for all aspects of universal design.
"It
is wonderful to be in on the creation of something, see it used, and then
walk away and smile at it."
—
Lady Bird Johnson
Fred
R. McFarlane, Ph. D., Annemiek Baars, Boukje Stevens, and Michelle Warn, M.A.
The
emerging use of distance technologies expands opportunities for adult learners
to acquire academic credentials and continue their own professional development.
The technological capacity exists to deliver skill training via distance education.
The burgeoning growth of the Internet and the advances in various technologies
such as videoconferencing, streaming audio and video and other variations in
the delivery of educational experiences has opened numerous possibilities for
adult learners. The technology exists to meet the educational needs of
adult learners. The question is can we replicate the human interaction,
support, and consultation that are available in traditional university campuses.
Even more basic, how critical do the learners value these elements of traditional
on-campus education.
There
is an extensive demand to expand the educational options for persons who wish
to pursue academic degrees at the undergraduate and graduate level.
This demand is especially true for persons who live in communities where there
is no access to traditional four-year institutions of higher education or the
specific degree and/or credential is not readily available. Numerous professions
are requiring specialized academic credentials and require that employed persons
return for formal degrees. Finally, numerous individuals live in remote communities
who want to upgrade their academic credentials but are unable to leave their
positions, their family and their community.
METHODOLOGY
The study focused on two groups of graduate students who completed their
degrees through distance education. There were variations in the delivery
methods to accommodate the learning, personal and professional needs of the
students. Two graduate students in Rehabilitation Science from the Maastricht
University under the supervision of a professor at San Diego State University
and a professor in Maastricht completed the data gathering and the preliminary
analysis. The focus of the research was to assess their perceptions of
distance education using the Dimensions of Distance Education instrument developed
by Harrison and Saba (1992). The following describes the two student groups,
the research protocol and the methodology of data gathering.
The
Student Groups: Two groups of students – adult learners – participated in
a graduate degree program using two approaches to distance education.
In both groups they did not attend any instruction on the University campus.
Each individual in each group met the same standards for admission, matriculation,
and graduation as the traditional on-campus students. The on-campus standards
were maintained for the individual courses.
Group
1 was a cohort of 36 individuals who resided in California and pursued a 60
semester unit graduate degree leading to a Master of Science in Rehabilitation
Counseling. Of the 36 individuals who began the graduate degree, 27 completed
the degree in 33 months. The instruction used a facilitated model of distance
education where the primary method of communication was the Internet with extensive
support through other distance education technologies. There were limited
face-to-face sessions in selected locations throughout the State. All
students were employed as practicing rehabilitation counselors with a State
Agency (the California department of Rehabilitation) and entered the degree
program with full support from their employer but no reduction in work demands.
Group
2 was a cohort of 26 individuals who resided in the Commonwealth of the Northern
Marianas. All of the individuals were employed in the Commonwealth and
participated in the degree program based on their desire to upgrade their academic
qualifications. These individuals pursued a 30-semester unit graduate
degree leading to a Master of Arts in Education with a concentration in Educational
Leadership. Of the 26 who began the program, 25 completed the degree in
24 months. The individuals had varying support from their respective employers,
which ranged from none to support for tuition and fees and time-off for the
course requirements. The University faculty member traveled to the Commonwealth
for concentrated periods of instruction ranging from one to three weeks.
In the interim periods, support was provided through the Internet, telephone,
mail, and fax.
The
common characteristics between the two groups included the following factors:
All

were pursuing a graduate degree to increase their professional credentials;

All

were enrolled in the degree program through the University;

All

enrolled in the degree program based on their own interest;

More

than one-half of each group of students were female,

At

the time of admission all students were employed in positions directly related

to their respective educational program (i.e., rehabilitation and education);
All
were encouraged to use their employment setting for application of the theories
and academic requirements.
Research
Protocol:
Harrison and Saba (1992) developed the assessment instrument – Dimensions of
Distance Education. They developed the instrument for a specific program
of distance education through San Diego State University. Before the application
of the instrument, it was revised to update the language to current distance
education and academic language. In addition, items that were duplicative
and/or outdated due to the changes in distance education were deleted.
The changes resulted in a reduction of items from 97 to 74. The instrument
has four major categories:
Instruction

(includes sub-categories of Student Professor Interaction, Student Peer Support,

Logistics, and Delivery/System/Methodology for a total of 34 items);

Management

(includes categories of Distance Education Support Staff Responsiveness, Technology,

Planning and Course Offerings, and Communication for a total of 22 items);

Distance

Education (includes Cost, Unique Features of Distance Learning, and Content

for a total of 8 items) a

Support

(includes Support from Upper Management and Support of Program for 8 items).
There
are two measures of assessment for each item. The first measure is a Lickert
Scale requesting that the student indicate a response, which reflects a range
from Strongly Agree to Strongly Disagree. The section measure is a response
to the Importance of the item to "how important you feel the item is to the
overall quality of the distance education program". This measure rates
High Importance, Medium Importance, and Low Importance. As an illustration
the following is a restatement of item I (within category 1 – Instruction and
subcategory I – Student Professor Interaction):
Page
1 of 2 | Go
to page 2 | Print Version