New Campaign Uses Fun, Engaging Tools to Connect Teens With Computers
WASHINGTON, D.C. – Recently, a unique coalition of libraries, foundations, nonprofit organizations, and media and Internet companies launched the ConnectNet/Conectado campaign – the most comprehensive national campaign to help bridge the digital divide. Computer skills equal economic opportunity for the next generation. Yet millions of young people – especially low-income, Hispanic and African American youth – will be left behind unless they get connected to technology. To help bridge this digital divide, the Kaiser Family Foundation has teamed up with the AOL Time Warner Foundation, American Library Association, Benton Foundation, Digital Divide Network, Leadership Conference on Civil Rights/ Leadership Conference Education Fund, PowerUP and Univision to launch ConnectNet/Conectado. This multi-faceted public education campaign is designed to help minority and low-income youth gain free or low-cost access to computers and the Internet in their own neighborhoods.
ConnectNet/Conectado includes:
The largest Internet directory ever created that guides young people to locations where public Internet access is available, including more than 20,000 technology centers and libraries across the nation. Librarians across the country will be trained to use the directory to help young people find free and low-cost sites near them. It was created by the AOL Time Warner Foundation and the Digital Divide Network, facilitated by the Benton Foundation.
A toll-free phone number (1-866-583-1234) and web sites (www.ConnectNet.org, www.conectado.org). Teens calling the toll-free number will get help from an English- or Spanish-speaking operator who will identify computer centers near their homes. Web site visitors, by simply entering their zip codes, can get a list of computer centers in the neighborhood.
Fun and engaging Public Service Announcements (PSAs) in Spanish and in English, to encourage minority teens to become computer-literate. The spots publicize the toll-free number and web sites through which teenagers can find computer resources in their neighborhoods.
A teen-friendly brochure on the ConnectNet/Conectado campaign and the importance of being computer-savvy. It will be distributed to teens by civil rights groups, local libraries, and youth centers.
Kaiser Family Foundation produced the PSAs. "These are not your mother's PSAs," said Steve Rabin, the Foundation's Senior Vice President. "Our target audience of junior high school kids has been raised on a steady diet of video games, sitcoms, wrestling and rap music. These PSAs don't lecture, cajole or talk down to young people. Instead, we use tongue-in-cheek humor to offer them practical information they can use." ABC, NBC, Turner Entertainment Network's Superstation and TBS 17, the WB, and BET have agreed to run the English language PSA. The English-language PSA will also run on Time Warner Cable systems across the country. The Spanish-language spot will air exclusively on Univision.
"This new digital opportunity initiative is all about equipping kids for a better future. It connects kids to a world of online information, learning and fun and gives them an equal chance to log on and learn 21st Century skills right in their own communities," said Kathy Bushkin, President of the AOL Time Warner Foundation and Senior Vice President of AOL Time Warner Inc. Says Bushkin: "We hope the PSA campaign will ignite kids' imaginations about the Internet and encourage them and their families to call the toll-free number where they can learn about where to go to log on." The AOL Time Warner Foundation is providing and staffing both the toll-free number and web access to the directory of community technology sites for kids. Univision has branded the Spanish language PSA and will be airing it throughout the network. In addition, there will be a direct link at www.univision.com to the directory. "The Conectado campaign is an important effort to make computers and technology an integral part of the daily lives of young Latinos," said Ivelisse Estrada, Vice President, Corporate and Community Relations, Univision Communications Inc. "This campaign will ensure that our youth obtain the necessary skills to meet their full potential."
According to 1999 U.S. Department of Commerce statistics, African-Americans represent only 7.2% of computer systems analysts and scientists and 6.4% of computer programmers, and Hispanics account for just 3.6% of computer systems analysts and scientists and 4.9% of computer programmers. "Bridging the digital divide is one of the most important civil rights issues of the 21st Century," said Wade Henderson, Executive Director, Leadership Conference on Civil Rights (LCCR) and General Counsel, Leadership Conference Education Fund (LCEF). "It is critical for organizations representing the underserved to be engaged in expanding access to and utilization of technology. LCCR and LCEF are pleased to join the Kaiser Family Foundation and its partners in reaching out to young people with the message that getting connected to the Internet is now as basic as knowing how to read and write."
A recent report by the David and Lucile Packard Foundation found that only 22% of children in families with annual incomes of less than $20,000 had access to a home computer, compared with 91% of children in families with incomes of more than $75,000. Access to technology in a neighborhood location is critical to filling the gap.
"For as long as libraries have existed, librarians have helped people in their communities find and use information," said Nancy Kranich, President, American Library Association. "Today librarians play a pivotal role in making sure that people of every race, locale and economic background have the opportunity to become computer-literate. Librarians are proud to be a part of the ConnectNet/Conectado launch and look forward to helping kids navigate the web at their libraries."
"With an Internet directory of more than 20,000 technology centers and libraries with connections to the Internet just a toll-free call away, youth and their caregivers will have the most complete information and maps ever assembled of centers in their neighborhoods," said Tony Wilhelm, Director of the Communications Policy Program and the Digital Divide Network at the Benton Foundation. "Such a convenient connection to the web just might ignite in underserved teenagers a renewed interest in the ever-expanding world of knowledge that the Internet makes possible."
The ConnectNet/Conectado Campaign Key Information: Toll Free Number: 1-866-583-1234 English Language Web Site: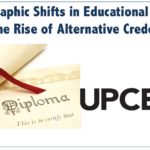 Download Report: Demographic Shifts in Educational Demand and the Rise of Alternative Credentials