Just Published: Handbook of Distance Education, Third Edition, by Michael Graham Moore

The third edition of the Handbook of Distance Education edited by Michael Graham Moore, Distinguished Professor of Education at The Pennsylvania State University, where he specializes in the study of distance education, has been just published by Routledge, a member of the Taylor & Francis Group. It reflects a comprehensive  treatment of scholarship about contemporary distance education by leading researchers in the field.
The comprehensive coverage includes: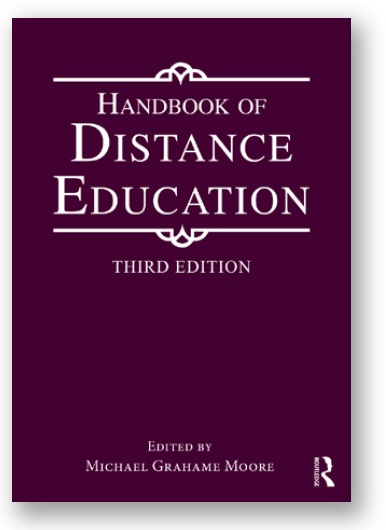 All aspects of distance education, including design, instruction, management, policy, and a section on different audiences.
Chapter authors frame their topic in terms of empirical research (past and present) and discuss the nature of current practice in terms of that research. Future research needs are discussed in relation to both confirmed practice and recent changes in the field.
Section one provides a unique review of the theories that support distance education pedagogy
Section six includes a unique review of distance education as a component of global culture.
This 729 page volume is about research and it is organized in five parts containing 44 chapters:
Part I: Historical and Conceptual Foundations
Part II: Learners, Learning, and Learner Support
Part III: Design and Teaching
Part IV: Policies, Administration, and Management
Part V: Audiences and Providers
The third edition of this award-winning Handbook continues the mission of its predecessors: to provide a  compendium of research in all aspects of distance education, arguably the most significant development in education over the past three decades. While the book deals with education that uses technology, the focus is on teaching and learning and how its management can be facilitated through technology.
This book will be of interest to anyone engaged in distance education at any level. It is also appropriate for for corporate and government trainers and for administrators and policy makers in all these environments.
ORDER the book by clicking on this link: Handbook of Distance Education