Exclusive Interview with Jane Terpstra, Direcotr, Annual Conference on Distance Teaching and Learning
The 28th Annual Conference on Distance Teaching and Learning is held this year on August 8 to 10 in Madison, Wisconsin. I have attended at least 20 of the 28 conferences so far, and recommend it highly to everyone who is interested in improving programs and offerings in K-12, higher education as well as government including the military. As this year's conference is getting closer, I interviewed Jane Terpstra, Director of the Annual Conference on Distance Teaching and Learning, which you see below.
Farhad (Fred) Saba, Ph. D.
Founder and Editor
Distance-Educator.com
---
Dr. Saba: Ms. Terpstra, Independent learning, life-long learning and other modes of alternative adult education have become more popular in recent years, partially due to the ubiquity of new digital technologies. How did you become interested in professional education and extended studies?
Ms. Terspstra: I have been a learner all of my life and have taught at many points along the lifelong learning continuum from 2-3 year old preschoolers to retired career professionals who want to learn about online teaching. That being said, a pivotal point for me occurred in graduate school the summer of 1982. I had been serving as a teaching assistant but was invited to become an assistant in a new college of education computer lab. It was a tough choice, but I was a graduate student in Instructional Design & Technology and was curious about the potential of delivering instruction via computer. Thus my adventure began in using various technologies to deliver instruction at a distance. I subsequently taught authoring for computer-based instruction, selected instructional programming for two public television stations, developed instruction delivered via computer and videodisc, consulted with faculty using new two-way video classrooms, and developed instruction for online delivery.
I have worked at the University of Wisconsin-Madison for 14 years and started attending the Conference on Distance Teaching & Learning early in my work here. Initially working as an Academic Technology Consultant, I looked forward to the conference every summer and envied the directors' role in shaping this annual event. When the previous director retired, I applied for the position and was thrilled to be selected. I have now directed the conference for the past 5 of its 28 years, through perhaps the fastest-paced changes in distance education to date.
Dr. Saba: I remember in the first few years, The Annual Conference on Distance Teaching & Learning conference were held in one of the smaller hotels in Madison, and now the conference site is one of the most beautifully designed conference centers in the country. As the Director of the conference, how do you describe the evolution of the conference over the years?
Ms. Terpstra: Yes, the conference has truly grown and evolved over the years. In its initial years, the main focus of the conference was on developing and delivering correspondence, audio tape, and televised courses. Research in distance education was in its infancy. Yet each year a group of professionals dedicated to this field gathered in Madison, WI to report their research results, share their best practices insights, and prepare for the future of distance education.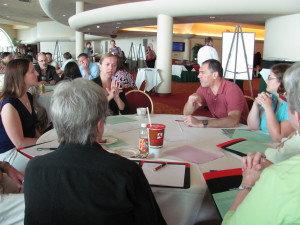 As new delivery tools emerged, the field expanded. The conference provided the latest research and best practices in distance education delivered via videotape, closed circuit television, computer-based lessons, videodiscs, digital audio with graphics tablet, multi-point digital video, course management systems, and digital repositories. Each year, we added conference presentation formats and increased sessions to accommodate the growing field.
Currently over 900 professionals from all levels of education, business and industry, non-profits, military, and government agencies gather for the annual conference to attend over 170 presentations and events. We have become a global conference with participants from around the world. We have also become a virtual conference, inviting participants who are unable to join us on site.
This year, we are turning our attention to mobile devices and apps, using cognitive science to meet challenges in teaching and learning, open education resources, prescriptive instruction using analytics to tailor online instruction, and the like. It's an eve- changing field requiring corresponding change in the annual conference. We offer our conference to all who are able to attend in person or are willing to attend virtually.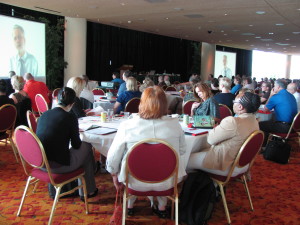 Dr. Saba: With the growth of distance education in the past 25 years, we have seen several other conferences emerging throughout the country with similar themes or sub-themes to the annual conference in Madison. How do you distinguish The Annual Conference on Distance Teaching & Learning conference for the benefit of those who may not have attended it yet?
Ms. Terpstra: Our conference offers opportunities for practitioners to follow research to practice applications of distance education. We focus on the needs of those working on the front lines of distance education, whether they are administrators, program and project managers, faculty/instructors, trainers, designers, distance librarians, strategic planners, faculty/staff development specialists, or learner support personnel. Presenters share current studies and demonstrate best practices. Exhibitors display relevant products and services. And participants have the opportunity to network, ask questions of peers, collaborate, form friendships, and even further their careers.
We continue high standards for those accepted for our conference program. Our conference proposals are each vetted by 3 peer reviewers to assure quality. We continue to include individual session evaluations, tabulate these, and send the results to each lead presenter. We use all evaluations, including our annual conference evaluations, to improve and shape subsequent conferences.
Between conferences, we gain insights into the work settings and challenges that practitioners are facing so we can provide conference sessions to best meet changing needs. We know that we are serving professionals in quite a range of career stages. Many of our participants, like you, have attended many years and have become leaders and administrators in the field. We have a sizable number of mid-career professionals just entering management jobs and tenured positions. Yet we still seem to attract many participants new to distance education each year. Thus, we have to ensure that we have a varied program to meet the career span from newbies to senior professionals.
Dr. Saba: Let's concentrate on this year's program. You are featuring a cognitive scientist as a keynote speaker. Can you discuss this choice in the context of the conceptual growth of the conference?
Ms. Terpstra: Yes, Dr. James Zull's keynote address will focus on knowledge from current research on brain development and function as well as ways to apply these insights to teaching & learning. Dr. Zull's latest book, From Brain to Mind: Using Neuroscience to Guide Change in Education, is quite thought-provoking. His synthesis of this research into recommended changes in educational practice are truly innovative.
Dr. Zull's career as a professor and researcher provides a solid foundation in research that our conference supports. Examples of applications of this research to teaching & learning provide the best practices that our conference participants desire. Also, his recommendations for changes in education will leave our audience with much to consider for their future teaching and learning. His keynote should prompt a continuing discussion among participants, whether at Dr. Zull's follow-up discussion or during lunch, break, or reception conversations to follow.
Dr. Saba: What are some of the other outstanding features of this year's conference?
Ms. Terpstra: As you know, we add new events to our program each year. This year, we are including a Global Perspectives session with some of our international participants. In addition to our popular 10-minute lightning sessions, we are adding Speed Solutions, 15-minutes to explain an issue or problem and the unique solution that was used to successfully address it.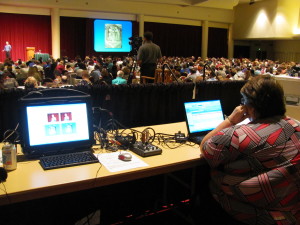 We know that federally-mandated state authorizations to offer distance education is an ongoing, unresolved issue. Thus, the conference will include a forum entitled Managing State Authorization Requirements as a follow-up to last year's forum on this topic. Much has changed over the past year, so this will provide an opportunity to understand this mandate and share plans to address this issue.
We will expand on the opportunities for professionals in various communities of practice to address challenges specific to their specialty area within distance education and to network and share among peers.
Finally, this year's conference will offer a plethora of sessions focused on mobile instruction. Judy Brown, a Mobile Learning Strategic Analyst, will present a keynote entitled Learning in Hand with Mobile Technology. We have a forum planned with panelists moving the discussion beyond the technology to address the practice of Preparing Instruction for Mobile Learning. Also, for the first time this year, we have a full track of information sessions on Mobile Design & Development.
Dr. Saba: Thank you for your time and the valuable information you shared with us.
Visit the conference site: http://www.uwex.edu/disted/conference/