Exclusive Interview with Dr. Scott W. Brown, Professor of Educational Psychology and Director of the Teachers for a New Era Project at the University of Connecticut
Dr. Saba:
How did you first become involved in distance education?
Dr. Brown:
As an educational psychologist I was always intrigued by both the opportunities and challenges students and professors face when teaching. When you consider using DE the issues of instructional design, objectives, class activities, assessment and evaluation become even more central to your planning and implementation. Distance education provides both new opportunities and challenges when moving from a traditional live class to a DE class. Issues of communication, structure and format of materials to be presented, time to prepare, and time to learn, are all present when preparing for a DE course.
DE provided me with an opportunity to provide graduate instruction to students who previously spent more time driving back and forth to my class than they did attending my class. It removed a distance barrier and enabled me to interact with students miles away. It was beneficial to the students and I learned a lot the first time we ran the course. Initially, I co-taught a graduate course on statistics to students in three different locations with a group in front of us live. It was a video link between the campuses and it required considerably more planning than a live course did, but we enjoyed it a lot – the instructors and the students. Since that time I have taught the course using a video link to one other campus over 100 miles away.
Now we work with a couple of projects that have used distance education to communicate with students as far away as 3,000 miles away with a GlobalEd project as students in middle and high schools communicate with one another about international negotiations or in our Classroom of the Sea project, with deaf students using video links as students use high speed video to sign the activities they are conducting on a ship at sea to other deaf students in their classroom hundreds of miles away.
For me, DE is a general system that can be applied in a wide variety of ways to remove barriers of distance, time and communication access to facilitate or support the learning of students of all ages.
Dr. Saba:
What is the most important project you are currently working on?
Dr. Brown:
The most important project I have ever worked on is the current Teachers for a New Era Project at UConn (TNE), a multi-year, multi-million dollar projected funded by the Carnegie Corporation with additional support from the Annenberg and Ford foundations. The mission of this project is to prepare the best teachers possible as measured by the performance of the pupils in their classes. A major component of this project is a residency/induction program through which we support our graduates as teachers during their first 2 years of teaching. Distance education plays an important part in how we provide professional development and technical support to teachers spread across our state and beyond. We are using distance education to provide links between teachers and professors, both in the Neag School of Education, as well as professors in the arts and sciences, who may have expertise for training, answering questions and providing referrals for teachers who are just beginning their professional careers as educators.
We are using web boards and WebCT to connect our new teachers with university professors and with one another, so that they may operate within a community of practice as they face many new challenges in their classrooms and school buildings. For the TNE project, DE is a critical component in our induction/residency program supporting new teachers across the state of Connecticut and beyond.
Since we are in a consortium with 10 other schools, I expect that there will be some common links of DE across the sites as our universities share materials and professional development activities to enhance the knowledge, attitudes and behaviors of our graduates, as well as our professors.
Dr. Saba:
What are some of the significant findings of your research and development project that you would like to share with our readers?
Dr. Brown:
Although we are in the very early stages of our TNE project supporting teachers, we are finding that distance education is the necessary vehicle for us to reach our graduates who are teachers. Their days start early and run long, with many new challenges and experiences facing them every day. In order to provide the professional development they are asking for, and need, we must use distance education to reach them as there are distance and time issues facing these teachers.
Web boards for asynchronous communications among the new teachers and experienced veterans, and university professors are breaking down the barriers of isolation facing many teachers. It allows these new teachers to enter a community of practice removing time and distance factors and quickly addressing their issues and concerns, which if left unanswered can fester and lead to teachers having less success and a less positive experience in their new roles.
Our results to date are very preliminary, but are in the right direction of opening lines of communications and support for our new teachers.
Dr. Saba:
How do you see the current status of distance education in general?
Dr. Brown:
The current status of distance education is very positive and one of rapid growth for the next 10 years or more. If we take a very liberal view of what qualifies as distance education, I think the growth pattern will be even steeper and will continue for a much longer period, if not indefinitely. However, this positive forecast must also contain some cautions. Distance education is a medium, but it is not content. We cannot discuss it as if it is one thing, but many things. For example, video conferencing, stand-alone CDs/DVDs, web-based courses, and asynchronous discussion and seminar systems, are some of the formats presented by distance education.
For distance education to continue to grow, high quality educational content and pedagogy must be the accepted standard. We must set standards for distanced education materials to strive for in order for the potential this medium has to be achieved. Poorly designed materials with hinder this progress as many consumers will not differentiate between the medium and the materials. The materials must be constantly updated to reflect the capabilities and standards of the current technologies and user standards to remain a viable source of educational experiences. I see the current status of distance education in the field of education, professional development and research as very positive and exciting. There are many opportunities for each of these areas, and the future is very bright, as long as the design of the distance education materials maintains high standards for quality educational experiences.
Dr. Saba:
How do you see the future of distance education in K-12 schools, and at the university level?
Dr. Brown:
I think the opportunities for educational experiences for K-12 schools are enormous, especially in the areas of enrichment and enhancement. The ability to link students with experts in a field to problem solve, ask questions or observe, are very exciting. In our Classroom of the Sea project in which we work with deaf students and science education, we have been able to broadcast our field trips out at sea studying harbor seals to other deaf schools across the country. For students sitting in a classroom in Vancouver Washington watching and interacting with our students as they observe students collecting data, analyzing that data and discussing their findings as our students sign their finding out across the system is a unique opportunity for modeling, educational enhancements and enrichments that could not have been possible with distance education. The excitement that we see in both our students on the ship and the students thousand of miles away is immeasurable.
Distance education in K-12 schools is being used to bring education to students who would not have been able to have that educational experience with out it. Issues of teacher shortages in specific areas, the need for a language teacher in a critical shortage area, or advanced placement courses for students whose school may not have the expertise for any one of various reasons, can address that need and fill that gap. New courses can be provided to students who need remediation on specific topics or who desire additional information above and beyond the standard curriculum can have the barriers of the school day removed, thereby enhancing the learning opportunities for students. Presently, we see DE courses for K-12 students addressing things beyond the typical curriculum providing opportunities that only a few years ago would have been out of reach. Today with an internet connection, they are a reality.
In my opinion the opportunities for DE at the university level are greatest in two general areas: undergraduate education for the non-traditional student (one who may be older than 18-24 years olds, and who may also hold a job that limits their ability to attend a university full-time) and graduate education in some professional fields. I believe we will still see large numbers of non-traditional students searching for universities that can meet their time restrictions by providing college courses that do not conform to the typical semester time-frame and still provide contact with professors and other students so that the distance education student is receiving a high quality educational experience. In this way students with families and jobs can attain university credit and/or learning new knowledge and skills as they work towards a college degree. Most major universities are working very rapidly to develop courses to address the needs of the non-traditional students while maintaining the academic integrity of the institution so as not to create a difference in educational quality among the traditional and distance education courses. I believe you may see many remedial courses for undergraduates also being developed to fill the demands for pre-requisite skills necessary for success in upper level courses.
For the typical undergraduate student, I believe we will see some distance education courses, but because they are generally residents of a campus community, the majority of the distance education experiences will be in a hybrid format combining traditional classroom experiences with distance education activities as support; such as we find in many of the on-campus courses using WebCT on my own campus. I believe that there will be considerable resistance from students living on a campus to DE courses, and I have seen it in their parents as well. Students attending a college campus want the access to a professor rather than DE courses, for the most part.
At the graduate level professional schools hold the greatest promise for distance education. Schools of education, business, nursing, and social work can address the continued professional development and work towards advanced degrees at excellent universities without requiring students to move closer to the university they wish to attend. On our own campus at UConn we offer graduate courses in several areas, but one of our most popular areas is in the area of gifted and talented education because we have the National Research Center for Gifted and Talented in my department, Educational Psychology. The courses are completely web-based and are offered to students across the country and around the world. Students interact with leaders in the field of gifted and talented education without having to leave their homes. But this program is not unique in format, as many universities are offering complete degrees on-line, while maintaining high academic standards.
The future for both K-12 and university distance education opportunities is bright. As distance education is used to remove barriers of time, distance, lack of local expertise, we will see a continued growth in available credit and now credit courses for students of all ages and characteristics.
Dr. Saba:
Thank you for your thoughtful comments.
---
---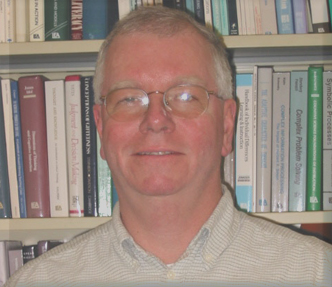 Dr. Scott W. Brown
is professor of Educational Psychology and the Director of the Teachers for a New Era Project at UConn. Dr. Brown has served as the graduate coordinator of the Educational Technology program at UConn, the head of the Educational Psychology Department, and the Director of the UConn Bureau of Educational Research and Service. He has been awarded over $7 million in state, federal and private grants, and has published over 90 articles and book chapters on topics related to educational technology and cognition and instruction. Dr. Brown specializes in learning, problem-solving and decision-making with a technology rich environment.
Scott.brown@uconn.edu
http://www.tne.uconn.edu
---