Exclusive Interview with Dr. Benny Johnson, President and CEO, Quantum Simulations, Inc.
Dr. Saba:
How did you become interested in technology based science education?
Dr. Johnson:
For several years, I have often discussed with my high school chemistry teacher and mentor, Mr. Dale Holder, the need for providing struggling chemistry students with personal tutoring help, particularly at home where a teacher is not available to answer questions or assist with problems. While teachers do their very best in the classroom and lab, a high percentage of students struggle or fail chemistry because there just isn't adequate time to work with students one-on-one to explain all the concepts in great detail. Because there are so many students that need help, there simply aren't enough chemistry instructors or qualified tutors to go around.
In 1998, I partnered with Mr. Holder, and longtime business associate, Rebecca Renshaw, to launch Quantum Simulations, Inc. to address the need for on-demand tutoring. Our goal was to provide every student with unlimited access to effective and affordable personal tutoring help anytime, anywhere. After extensive research and analysis, we determined that proven teaching practices combined with artificial intelligence (AI) technology delivered to students over the Internet was the key to meeting our objective. We received funding from the U.S. Department of Education and the National Science Foundation and, in a few short years, developed the Quantum Tutors — the first, and only, artificial intelligence tutors for science. Designed for classroom exercises, at-home study and teacher training, the tutoring software uses Quantum's patented artificial intelligence technology to emulate the proven teaching techniques used by Mr. Holder for more than 35 years. Accessed by students on demand anywhere there is an Internet connection, the Quantum Tutors help students overcome the unnecessary anxiety, fear and frustration that come with learning challenging, new subjects such as chemistry and mathematics, particularly at home where a teacher is not available to help and parents may be unable to help because they most likely lack the background and teaching skills to assist with homework in these subjects.
Just as I was inspired to learn more about the sciences, now students can have a greater appreciation for chemistry and mathematics where they not only learn fundamental skills, but achieve a higher conceptual understanding of these subjects, while improving their critical thinking and problem-solving skills.
Dr. Saba:
2. We have been using computers in education for a number of years. How does the vision of Quantum differ from other approaches to technology based science education?
Dr. Johnson:
With the power of today's computers and the prevalence of the Internet, there seems to be a trend to take what is currently available in textbooks and simply convert it to a digital format, presenting it to the students through the use of tier-based navigation/decision trees, colorful graphics, video and learning exercises. While this approach is effective in giving users some more control over content, it is still a passive learning approach because students spend most of their time reading and observing, not engaging and doing. For example, with multiple-choice questions, it's common for students to guess a correct answer without actually learning anything.
True learning happens when the student is actively engaged at a deeper, intellectual level where "breakthrough learning" takes place. We've all experienced it before – that magical moment of transformation where what seemed to be a confusing concept or unsolvable problem now becomes obvious and much easier to understand. That's what the Quantum Tutors are designed to give the student. The Tutors encourage the student to solve problems in a non-threatening environment where they are totally free to explore, make mistakes and try new ideas without fear of embarrassment.
Similar to a human tutor, and unlike any other software, the Quantum Tutors assist the student with any problem he or she wants to work on, provide feedback and coaching based on the student's own work, give hints and even answer questions. The student can e-mail a transcript of their work to the teacher just as they would submit a homework assignment on paper. In the end, the student understands the concept, receives positive feedback at every step and experiences all the excitement and confidence that comes with learning something new. The Tutors are always there to guide them every step of the way and provide as much or as little help as needed based on the student's subject knowledge and comfort level.
Dr. Saba:
Recently you were awarded funding from the U.S. Department of Education (ED) to support the No Child Left Behind (NCLB) initiative. What is the focus of your current development efforts for this award?
Dr. Johnson:
We've received significant funding from both the U.S. Department of Education and the National Science Foundation based on our research efforts and the effectiveness of our Tutors. For example, independent research shows that students who use the Quantum Tutors along with textbook and classroom studies can improve test scores by as much as 50%, specifically benefiting students that struggle the most. It's the unique ability of the Tutors to achieve significant, measurable results that's so appealing to the educational community. In fact, I was recently quite honored to be invited to present the Quantum Tutors at the Education Secretary's NCLB Technology Leadership Summit earlier this year as a benchmark technology in support of the NCLB science assessments, which begin in 2007.
This particular funding is dedicated to the development of an innovative Assessment Tool, where teachers can use the power of the AI to administer their student testing and evaluations online. For the student, the Assessment Tool automatically grades the student's own work and provides an immediate, real-time constructive report on their work, suggesting topics and concepts to review to improve future test scores. For the teacher, the Assessment Tool provides critical real-time data for analyzing how the class performed on the concepts tested, also providing drill-down detail to each individual student's work on demand. Teachers can use this information to determine concepts to re-teach and even how to pair students together to coach and help each other, in ways that would never be possible when the teacher must compile and analyze his or her own assessment data by hand.
Dr. Saba:
Which schools and educational programs most benefit from your products, and what is the best way to contact you?
Dr. Johnson:
The Quantum Tutors are for any student or teacher interested in learning more about chemistry and receiving one-on-one tutoring help. Available to school districts, teachers and students on an annual subscription basis priced per student, Quantum offers 13 Tutors covering mathematics (middle school through 9th grade) and chemistry (high school and college) with new Tutors always in development.
Quantum Mathematics (middle school) includes five Tutors covering Measurement, Ratio and Proportion, Percentages, Scientific Notation and Metric Units. These Tutors were developed to provide students assistance with core math skills in preparation for high school science.
Quantum Chemistry (high school and college) includes nine Tutors covering all major fundamental topics for a first-year chemistry course including: Measurement, The Elements, Ionic Compound Formulas, Mathematics of Chemical Formulas, Equation Balancing, Oxidation Numbers, Chemical Reactions, Chemical Bonding and Stoichiometry.
Further information, including a Virtual Tour, is available on our web site, www.quantumsimulations.com. The Quantum Tutors are available through two distribution partners, Science Kit (www.sciencekit.com/elearning), which offers all Tutors with bundled pricing discounts, and Holt, Rinehart and Winston (www.hrw.com/quantum), which offers the Chemistry Tutors only.
Dr. Saba:
What are some of your future plans and goals?
Dr. Johnson:
We will continue to bring new functionality to our existing Tutors as well as expand the content of our offerings to include other mathematics and science topics. In addition, development is well underway for the AI-based automatic grading and assessment features in support of NCLB for science. We are also working on a method for making the Tutors fully accessible for the visually impaired. Lastly, we are focused on satisfying a pressing outstanding need for professional development and assisting out-of-field teachers with training.
Dr. Saba:
Thank you for your informative and interesting remarks.
---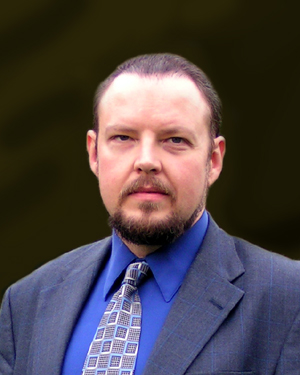 Benny G. Johnson, Ph.D., President and CEO, Quantum, Simulations, Inc.,
holds Bachelor of Science degrees in Chemistry and Mathematics from the University of Kentucky, and received his Ph.D. in Theoretical Chemistry from Carnegie Mellon University in 1993, working with Professor John A. Pople, a 1998 Nobel Laureate in Chemistry. Dr. Johnson is the author of over forty scholarly publications in academic journals and books, and has delivered invited lectures at many national and international conferences, including the Education Secretary's No Child Left Behind Technology Leadership Summit in 2004. As principal investigator on various research and development projects, Dr. Johnson has received over $7.5 million in Small Business Innovation Research and other awards through various agencies including the U.S. Department of Education, the National Science Foundation, the U.S. Department of Energy, the Air Force Office of Scientific Research, the National Institutes of Health and the Ben Franklin Technology Center of Western Pennsylvania. In addition to this work, Dr. Johnson has contributed substantially to several significant commercial and government chemistry research software projects, including Pacific Northwest National Laboratory's NWChem project, which is part of the Department of Energy's effort to solve environmental problems related to the Hanford nuclear site in the state of Washington.
---