EduPoint Announces Partnership With the Sloan Foundation's elearning Consortium of 80 Accredited Learning Institutions
SAN DIEGO, Apr 4, 2001 — EduPoint Inc. today announced that it has been selected as the first industry partner of The Sloan Foundation.
Under the terms of the partnership, EduPoint will add to its Corporate Learning Marketplace 2.0 (CLM 2.0) the elearning courses and programs from more than 80 accredited institutions of higher learning that are participating in Sloan's Asynchronous Learning Network Consortium (Sloan-C).
EduPoint's CLM 2.0 is an online marketplace for corporations that enable employees to efficiently find, compare, enroll in and evaluate learning. The marketplace aggregates, organizes and updates course information and schedules from accredited universities, for-profit schools and training providers. Classroom-based, distance and elearning courses are all included in the EduPoint marketplace.
Sloan-C is comprised of over 80 accredited institutions of higher education that provide online learning instruction. Together, Sloan-C's members offer over 2,000 distinct course titles and over 240 degree or certificate programs, all offered asynchronously.
"EduPoint's learning marketplace offers corporations the most comprehensive solution for effectively managing learning to ensure that it aligns with business objectives and meets corporate quality standards," said Joe Pulichino, EduPoint's president and CEO. "We are pleased to expand our listing of accredited elearning courses through our partnership with The Sloan Foundation. EduPoint's corporate clients will be able to present their employees with elearning available from the top-tier accredited schools participating in the Sloan consortium while the schools can extend their marketing reach to a corporate audience."
Frank Mayadas, program director of The Sloan Foundation, said, "The scalability and cost-effectiveness of asynchronous learning makes it an ideal solution for corporations seeking to maximize competitiveness through a continuously learning workforce. By partnering with EduPoint, Sloan-C is able gain exposure to EduPoint's enterprise clients and increase our distribution to the corporate learning market."
About EduPoint Inc.
EduPoint Inc. provides products and services that help enterprises improve the value of corporate learning programs and make it more efficient for employees to find and purchase learning. EduPoint's Corporate Learning Marketplaces give employees a centralized, online location to find, compare, enroll in and evaluate learning from accredited colleges and universities, as well as training providers.
The private marketplaces are customizable to each corporation's specific learning requirements and enable enterprises to track and evaluate learning provider performance. EduPlan, EduPoint's education planning service, helps corporations develop education strategies that maximize the effectiveness of learning programs and helps employees meet their education goals with the least amount of time and cost incurred. EduPoint is headquartered in Solana Beach, Calif. For more information, visit the EduPoint Web site at www.EduPoint.com, or contact the company at 380 Stevens Ave., Suite 210, Solana Beach, Calif. 92075. Tel: 858/792-9889, Fax: 858/792-9119.
About The Sloan Foundation

The Sloan Foundation, founded in 1934, is a philanthropic non-profit organization that supports efforts in the areas of science and technology; standard of living and economic performance; education and careers in science and technology in addition to national and civic causes. Sloan's Asynchronous Learning Consortium, Sloan-C, is an association of accredited institutions of higher education offering associate, undergraduate, graduate and master degree programs through high-quality online education.
Specialized certification courses, corporate training and certificates are also offered to students at a distance. All Sloan-C members must offer degrees or certificate programs which are at least of as high quality as corresponding classroom-based programs. To learn more about The Sloan Foundation, visit the Web site at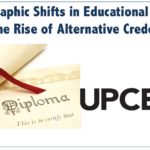 Download Report: Demographic Shifts in Educational Demand and the Rise of Alternative Credentials