Deconstructing competency-based education: An assessment of institutional activity, goals, and challenges in higher education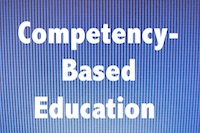 There have been several surveys assessing institutional interest in Competency-Based Education (CBE), but there is a need for a systematic analysis of how institutions are designing and implementing CBE at the course, program, or institutional level. This initiative proposes to close this research gap and advance the conversation about the scale, impact, and varieties of CBE.
Methods
Eduventures, an independent higher education research and advisory firm, surveyed institutional leaders and other informed stakeholders on details about the strategies and operations involving CBE at their institutions. The resulting sample includes 251 institutions from across higher education and represents one of the largest samples to date on CBE implementation.
Results
A portrait of CBE emerges as a menu of tools and practices, rather than a monolithic approach or linear path. These findings underscore the need for institutions to carefully weigh the pros and cons of CBE implementation and to proactively select the CBE components that make the most sense for their students and mission.
Conclusion
While interest in CBE is stronger than ever before, it remains a complex innovation. CBE is not simply a delivery mode. It challenges long-held conventions regarding how curricula are created, instruction is designed and delivered, and skills and knowledge are assessed. The diversity and complexity of CBE requires customized implementation, and near-term opportunities to accelerate the growth and expand the scale of CBE beyond a set of innovative early adopters may be limited. This complexity emphasizes the merits of a richer array of CBE implementation examples.