Apple Announces QuickTime 5 and QuickTime Streaming Server 3
Apple® recently announced QuickTime™ 5, Apples industry-leading software for creating, playing and streaming high-quality audio and video over the Internet, and QuickTime Streaming Server 3, Apples new version of the standards-based, open source, streaming server. In addition, Apple is demonstrating a preview version of QuickTime with support for industry-standard MPEG-2 and MPEG-4 encoding and decoding.
QuickTime has been long established as the digital media standard for capturing, encoding and delivering content on the Internet, said Philip Schiller, Apples vice president of Worldwide Product Marketing. QuickTime 5 offers incredible new capabilities for everyone who creates or views multimedia content.
QuickTime 5 includes an enhanced user-interface with new audio controls, Hot Picks guide and QuickTime TV™ (QTV) channels display; a new DV codec for enhanced speed and quality; the ability for content creators to design custom interfaces for the delivery of their QuickTime content; and a component downloader to add Apples own enhancements as well as third-party plug-ins on the fly. QuickTime 5 also offers full support for MPEG-1, Flash 4 and QuickTimes new Cubic VR technology.
Apples QuickTime Streaming Server 3 includes Skip Protection, a patented collection of features that protects the quality of streams from disruptions on the Internet, and a new easy-to-use web-based interface that can be administered locally or remotely to configure server settings. Coupled with Mac® OS X Server on a Power Mac™ G4, QuickTime Streaming Server 3 lets users start up a streaming digital video channel with support for more than 3,000 concurrent streams to QuickTime users. Darwin Streaming Server, the Open Source version of QuickTime Streaming Server 3, offers support for FreeBSD, Linux, Solaris, Windows NT and Windows 2000.
With over 150 million copies of QuickTime 4 already in distribution worldwide, QuickTime is fast becoming the worlds leading cross-platform multimedia technology and is today the only open source, standards-based streaming solution. As a co-founder of the Internet Streaming Media Alliance (ISMA), Apple is dedicated to the development of products and technologies that adhere to industry standards to provide an optimized user experience through interoperability. QuickTime was chosen by the International Standards Organization (ISO) as the base file format for MPEG-4, and Apple is working with other ISMA members to bring interoperable MPEG-4 products and technologies to market.
Availability QuickTime 5 is immediately available for free download at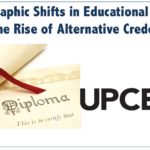 Download Report: Demographic Shifts in Educational Demand and the Rise of Alternative Credentials